Sheridan High School
Class Of 1979
In Memory
Karl Woodson (Welding Teacher)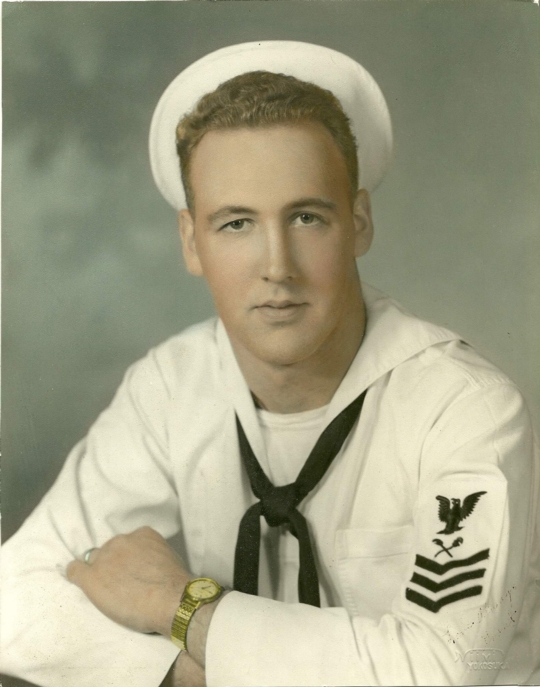 Karl Grant "Woody" Woodson, 84, a current resident of Sequim, WA, died 19 Mar 2019 at Virginia Mason Hospital, Seattle, WA, after complications from a heart attack. He was preceded in death in 2013 by his devoted wife of 59 years, Barbara Ellen Alexander Woodson, also of Sequim. His older brother, David Douglas Woodson, also preceded him in death in 2001.
He is survived by his younger brother Bruce A. Woodson, Pittsburgh, PA; a step-mother, Jayne Woodson, Cedar Rapids, IA; and by his twin sons and daughter-in-law – Andrew B. Woodson and Marnie C. Woodson, Sequim, WA, and John W. Woodson, Phoenix, AZ. He has 7 grandchildren and 9 great-grandchildren.
Woody was born October 13, 1934 in Cedar Rapids, IA, to parents Beryl Clarence and Adelaide Marie Shors Woodson, and he learned his spirited love of the land when his family moved to a farm just east of Cedar Rapids. He graduated from the 1953 class of Franklin High School in Cedar Rapids, and joined the U.S. Navy soon after.
While in the Navy, Woody was stationed onboard the light cruiser USS Los Angeles (CA-135) attaining the rank of First Class Petty Officer in just four years. His naval unit made several long deployments into Pacific waters out of Long Beach, CA. His job was as a pipefitter and hull technician for R Division, with a collateral duty of Master-At-Arms for the ship. USS Los Angeles sailed into combat during the Korean War efforts.
Woody met the love of his life, Barbara, while in the Long Beach area. They married November 19, 1955, after just three months of courtship. Woody decided reluctantly to leave the Navy, and they moved to Whittier, CA to begin their life together. Woody got his Bachelor's Degree in education from Cal State University - Los Angeles, and he began a teaching career that spanned 37 valuable years.
After being together without children for 7 years, they decided to adopt six-week old boys John and Andrew in November, 1963. They moved into what was then just a housing project called Mission Viejo, CA, to raise the boys. Woody taught the first auto shop and wood shop classes at Mission Viejo High School (1966) and the first auto shop/welding classes at Saddleback Junior College (1968). Woody finished his Master's Degree in Educational Arts from California State University - Los Angeles in June 1969.
Following the 1973 school year, Woody and Barbara decided to leave the big city with the boys and seek to live off the land together. They moved to Dayton, WY that summer, where Woody started teaching welding shop at Sheridan High School in Wyoming, a position he held from 1974 until retirement in 1993. They found 12 acres east of Sheridan near Wyarno, WY, and shop teacher Woody build an entire state-of-the-art, five-bedroom house from scratch, including a swimming pool and several outbuildings. They tended to two acres of lawn and flowers, another acre and a half of garden full of vegetables and fruits, and raised several cattle, horses, dogs, cats, chickens, pigs, rabbits and bees.
Woody also began working summers for the U.S. Forest Service during the summer school breaks, as well as baling hay on his land, contracting jobs on other ranches and working nine miles of right-of-way hay along Highway 336 just outside Sheridan to Wyarno. He always found time to hunt and fish in the Big Horn Mountains and local hills and streams. The family lived and worked at this location until 2003, when the ranch, house and haying equipment were all sold at auction.
After a year in town in Sheridan, Woody and Barbara began a retirement life of traveling in an RV, buying a new home to live in on the east side of Sequim, WA. Their journeys would originally winter over in Hemet, CA, and after 2012 in north Phoenix, AZ. They also boated in Sequim Bay from 2004 until 2010. After Barbara's death in late 2013, Woody continued to RV to see his boys in the Big Horn Mountains and in Phoenix until 2017, when back problems began to curtail his RV travels. His son and daughter-in-law moved from Montana to be near him his last 15 months.
Woody's remains will be cremated and interred next to his wife at Tahoma National Cemetery with full veteran colors in Kent, WA, starting at 9:30am, with a following celebration-of-life luncheon to be held in Sequim starting at 2:00pm. All that knew him and his wife are welcome to attend.