Sheridan High School
Class Of 1979
In Memory
Terri Gamble (Sees)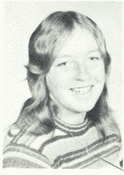 Terri Dee (Gamble) Sees, 38 died July 24, 1999, at Memorial Hospital of Sheridan County after a long battle with cancer.

Cremation has taken place. Services will be at 10 am, Thursday, August 5, at Kane Funeral Home with Rev Joseph Keys officiating. Terri's family and friends will have a gathering to scatter the cremains following the funeral service.

She was born March 2, 1961, in Sheridan to Raymond George and Ardis G. Kelsey Gamble. She graduated from high school and lived in Sheridan all her life. She enjoyed camping, fishing, playing pool and being with her friends. Most of all she enjoyed watching her daughter grow up.

Survivors include her daughter, Tessa Rae Sees of Sheridan; her mother and stepfather, Larry and Ardis Bowman of Sheridan; ; three sisters, Bonnie K. McPherson and Julie Ann Cox of Sheridan, and Kathy Lou gamble of Plentywood, MT; two brothers, Donnie R. Gamble of Worland, and Dale Lee Gamble; and aunts, uncles, nieces and nephews.

She was preceded in death by her father in 1987 and her grandparents.

Memorials are suggested to the fund established to benefit her daughter, Tessa or to help with the funeral expenses in care of Delphine Toner, first Interstate Bank, Box 2007, Sheridan WY 82801.