Sheridan High School
Class Of 1979
In Memory
Bob Weber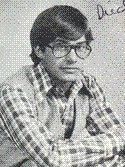 Bob Weber 1/13/61 – 7/22/94
Robert James Weber died July 22 of complications from the AIDS virus. He was 33.
He was born January 13, 1961, in billings, and moved to Sheridan with his parents at the age of one.
He attended school in Sheridan, graduating from Sheridan High School in 1979, and worked for W.M. Fry construction for a year after graduation before attending Montana Sate University in Bozeman.
In 1982, he continued his studies at The Art Center in Pasadena, CA, later living in Los Angeles designing and manufacturing furniture.
He returned to Sheridan in August of 1991, working with JBD construction specializing in cabinet making.
Survivors include his parents, Jim and Mitzi Weber of Sheridan; three brothers, Dick, Ken and Tom, all of Sheridan; four sisters, Karen Olson of Basin, Lynn Loe of Casper, Patty Cox of Sheridan and Julie Hermon of Glenwood Springs, CO; two grandmothers, Florence Weber and Marie Vedova of Sheridan, numerous nieces and nephews, and companion Janice Green of Sheridan.
Funeral services are set for 10 am Tuesday at Ferries Funeral Home with burial to follow.
Memorials may benefit the Bob Weber Memorial AIDS Fund, in care of Delphine Toner, first Interstate Bank, Sheridan.