Sheridan High School
Class Of 1979
In Memory
Neal Crider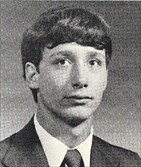 Neal Crider 5/7/60 – 4/1/98
Neal S. Crider, Sheridan native, was killed Wednesday afternoon after being thrown from his horse on a ranch where he worked at Boulder, Wyoming. He was 37.
Cremation has taken place. Memorial services will be held at Pinedale, and also at Immanuel Lutheran Church in Sheridan at a later date.
He is survived by a young son, Clancy Crider of Pinedale; his parents, Dr. and Mrs. John Crider of Sheridan; a sister, Karen Grimes of Jackson; four brothers, his twin Nelson Crider of Boulder, Michael Crider and Kelly Crider, both of Sheridan and Kyle Crider of Eugene, OR; and several nieces and nephews.
He was preceded in death by a brother, John Crider, who lost his life in an accident 12 years ago.
A graduate of SHS, Neal Crider was a cowboy with a great love of horses. He enjoyed roping, was a pick-up man at various rodeos and also enjoyed hunting and fishing.
He was born May 7, 1960, in Memorial Hospital of Sheridan County.